Organizing Solutions for People with ADHD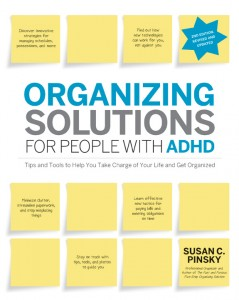 This new updated and revised version of Organizing Solutions for People with ADD, now re-titled, Organizing Solutions for People with ADHD expands on the simple ADHD friendly organizing approach -emphasizing easy upkeep and maximum efficiency- developed by Susan C. Pinsky, Professional Organizer specializing in ADHD, and mother of an ADHD child.
In the half dozen years since the publication of OSADD the world saw a change in technology and lifestyle rarely rivaled in history. Facebook has changed the way we socialize and smart phones have replaced our alarm clocks, stereos, phonebooks, maps and media. Books, CDs and DVDs are all going the way of the dinosaur as e-readers, tablets, mp3s and live streaming become the method of choice for consuming entertainment. As concern for the planet has increased, even our waste disposal methods have been forced to change as many of us rely more on recycling and reusing. The new updated and revised Organizing Solutions for People with ADHD examines our current technology and values through the prism of efficiency and maintainability –cherry picking those organizing systems that are most appropriate for the ADHD community.
 With this unique and simple approach those with ADHD, and their family members, will have a road map to those tools, tips, and methodologies that can help bring organization, and harmony, to their homes and lives.
 Organizing Solutions for Poeole with ADHD has received a 41/2 star average rating on Amazon.com
Susan C. Pinsky is the author of the best-selling The Fast and Furious 5 Step Organizing Solution. She is a top professional organizer who has lectured on television and radio stations around the country and is a member of the National Association of Professional Organizers. Pinsky is also the owner of "Organizationally Yours," a professional organizing service based in Acton, MA.
To contact: Organize_you@comcast.net or call (978) 264-0252.